Ox4Sap was designed originally with the vision of generating Ms-office documents within SAP
The thought was to separate Template design and data linkage with Sap
from the generation or data extraction so control and changes will be
easy to use and declare.
Templates are used in many cases within the SAP environment such as correspondence,
documentation of any kind, contracts, production or service records and so on
you can watch examples of this in the YouTube channel, and these examples regard
only for the generation of documents that have its data on Sap,
for example MM, HR, FI, SD, CRM, SRM etc.
So, you may ask what if i want to generate documents from another system?
For example, if I want to generate documents based on SuccessFactors data like bonus
letter to an employee or other employee documents.
Well, it's not so complicated as you can think, actually with Ox4Sap infrastructure it is
the same with some small changes.
When we declare a Template for Ox4Sap usage we use Ms-word or Excel as containers.
That means that creating a template can be done for every Legacy system or
another system such as SuccessFactors or Ariba without any connection at all to
the generating system, in this case Sap.
Now after we have done with Template design, we can upload it to the Ox4Sap
customization.
But we miss something here.
When we use Ox4Sap with Sap data, we have the dictionary schema prepare
for usage and linking,
but now we are dealing with an External system, how can we handle this?
In this case, we will use an Integration system and usually we will use Sap PI because
most of the SAP customers if not all are using it.
After we build a linkage with PI to the external system we have now the dictionary
schema in SAP!
So, now it's easy to combine and use these dictionary structures with Ox4Sap to create
Ms-office documents from an External system.
External System Generation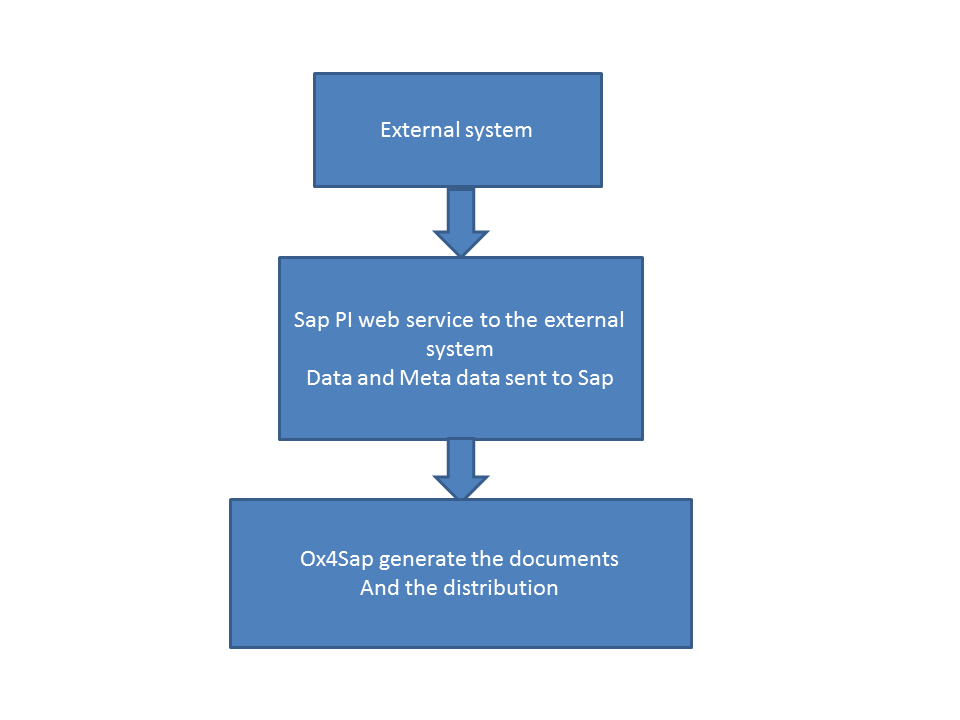 Sap system Generation
External generation of Ms-office documents using Ox4Sap can be used for many
processes such as contracts generation, letters for customers, Invoices and much more.
Take for example contracts and insurance policies in an Insurance company,
or contracts and letters to the customers in a Bank.
There are many more implementations out there.
Of course, you know the best of the processes you use in your systems and
you can evaluate by yourself
if the production of documents using this technology can assist to improve your systems.
So turn on your imagination and send us your implementations ideas.
Subscribe on YouTube